Inquiry Counsel
---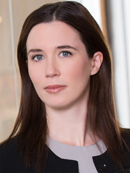 Kate McGrann, Lead Counsel, B. Sc., JD, is a civil and regulatory litigator and a partner in Crawley Mackewn Brush LLP in Toronto. Her civil litigation practice includes complex corporate/commercial, professional discipline, employment, fraud, and defamation issues. She has appeared before all levels of the Ontario courts as well as the British Columbia Supreme Court, and before various arbitrators and administrative tribunals. Her practice maintains a significant focus on securities regulation, acting regularly on investigations and proceedings before the Ontario Securities Commission, the Investment Industry Regulatory Organization of Canada and the Mutual Fund Dealers Association. She also has experience in dealing with matters before the College of Physicians and Surgeons of Ontario, the Ontario Municipal Board and the Financial Planning Standards Council.
In 2017-18 she acted as Senior Enforcement Counsel in the Enforcement Branch of the Ontario Securities Commission on a secondment. In that role, she represented Staff of the Commission in numerous enforcement matters, including prosecuting allegations of unregistered trading, illegal distributions and fraud, and advising on confidential investigations. She acted for Staff in a significant joint hearing before the Commission and the Financial and Consumer Affairs Authority of Saskatchewan involving the interpretation of a newly-adopted takeover bid regime and its applicability to a contested takeover in the cannabis industry.
Before joining Crawley Mackewn Brush, Ms. McGrann was an associate in another Toronto litigation firm, also practising civil and regulatory litigation. Over her career she has advised and represented clients in a wide variety of subject areas ranging from indigenous rights to intellectual property, municipal law and professional negligence. She holds her JD from the University of Toronto Faculty of Law, and her B.Sc. from McMaster University, where her research and published work focused on antibiotic resistance in bacteria.
Ms. McGrann was called to the Ontario bar in 2008. Her practice has been recognized by Benchmark Canada, naming her one of Canada's top litigation lawyers under 40 as a "Future Litigation Star".
email kmcgrann@collingwoodinquiry.ca
---
---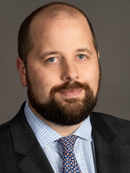 John Mather, Associate Counsel, JD, BJ, was called to the bar in 2013 and is a senior associate at DMG Advocates LLP. He is an experienced commercial litigator who has appeared in a variety of domestic and foreign proceedings.
Prior to joining DMG in 2018, John spent five years as an associate lawyer at a leading national firm, where he maintained a broad litigation practice that included product liability, commercial leasing, defamation, telecommunications, procurement (public and private), infrastructure, environmental, property and jurisdictional disputes.
In addition to regularly appearing before the Ontario Superior Court and Court of Appeal, John has acted in several domestic and international arbitration proceedings, including in New York and Riyadh, Saudi Arabia. He also has experience in injunction and urgent proceedings.
Among other clients, John has recently acted as counsel to leading automobile manufacturers, telecommunications providers, newspaper publishers, oil and petrochemical producers, steel manufacturers, professional services firms and restaurant franchisors, as well as government agencies and non-profit organizations.
John earned his law degree from Western University in 2012, where he graduated with Distinction. Prior to law, John worked as a journalist in Canada and the United Arab Emirates.
email jmather@collingwoodinquiry.ca
---
---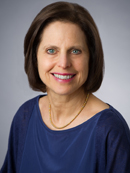 Ronda Bessner, Senior Legal Analyst, has been involved in a wide range of areas of the law, including adjudication, academia, public inquiries, and policy work. After graduating from McGill Law School with a Bachelor of Civil Law (BCL) and a Bachelor of Common Law (LLB), Bessner received a Masters of Law (LLM) at Harvard Law School. Bessner is an adjudicator on the Consent and Capacity Board. She has taught at a number of Canadian law schools in the areas of Evidence, Public Inquiries, Criminal Law and Youth Justice. She has also presented and published on a number of subjects including child abuse, HIV/AIDS, and public inquiries. Bessner has worked on several public inquiries and in law reform. She has held the position of Senior Legal Analyst at five public inquiries including the Walkerton Inquiry, the Ipperwash Inquiry, and the Royal Commission on the Blood System in Canada. In 2016, Ronda co-designed and co-facilitated two Roundtables and presented a paper to three federal Cabinet Ministers for the proposed Public Inquiry into Missing and Murdered Indigenous Women and Girls. In 2017, Ronda and her co-author Susan Lightstone wrote Public Inquiries In Canada: Law and Practice, published by Thomson Reuters Canada. As Counsel to the Ontario Law Reform Commission under the Chair of Rosalie Abella, Bessner wrote reports on Drug and Alcohol Testing in the Workplace, Child Witnesses, The Basis of Liability for Provincial Offences, and co-authored the report on Damages for Environmental Harm. Bessner is Past President of the Women's Law Association of Ontario and she co-founded the first Canadian Chapter of the Harvard Law School Women's Alliance. Bessner was awarded the Law Society of Upper Canada Medal for outstanding service in the legal profession in 2016.
---
---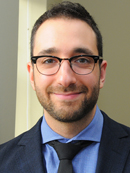 Max Libman, B.C.L, LL.B., Barrister & Solicitor, was called to the Bar of Ontario in 2018. He currently works as a research lawyer with the Collingwood Judicial Inquiry.
As an articling student with the Ontario Ministry of the Attorney General, Crown Law Office – Civil, Mr. Libman worked in a number of litigation areas including: aboriginal law, personal injury law, class proceedings and judicial review applications. Prior to his articling experience, Mr. Libman worked as a summer student at the Kenora district office of Legal Aid Ontario. He has also previously worked as a research assistant and online content creator at an immigration law firm in Montreal.
Mr. Libman is a graduate of the McGill University Faculty of Law and holds degrees in both civil law and common law. While in law school, he was a member of McGill's delegation to the Winkler Class Actions Moot and volunteered at the McGill Legal Information Clinic. In his final year at McGill, Mr. Libman served as a teaching assistant and course leader for the faculty's Legal Ethics and Advocacy course.
email mlibman@collingwoodinquiry.ca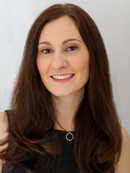 Staff lawyer from April 2019, to completion of her assignment on September 2019.
Rebecca Dervaitis Loch, B.A., M.A., LLB., was called to the Ontario bar in 2007. She is a civil litigator and mediator at Dervaitis Loch Law Professional Corporation in Toronto. Prior to opening her litigation and mediation practice, she was a partner at a boutique Toronto law firm practicing exclusively in the area of insurance defence, dealing with personal injury, property loss, subrogation, coverage disputes and policy interpretation. Throughout her career, she has acted for individual, business, and institutional clients on a variety of litigation and administrative law matters, both defending and advancing claims in areas including insurance, professional negligence, medical malpractice, personal injury, sexual abuse, breach of trust, employment, and contract disputes.
Ms. Dervaitis Loch graduated with Great Distinction in 2002 from McGill University with a Bachelor of Arts in Sociology and a double minor in Political Science and Drama & Theatre Studies. In 2003, she was awarded her Master of Arts in Criminology with Excellence Distinction from the University of Toronto, before attending the University of Western Ontario Faculty of Law, graduating in 2006. In 2005, she participated in an exchange with the University of Edinburgh School of Law in Scotland.
email rdervaitisloch@collingwoodinquiry.ca
---
---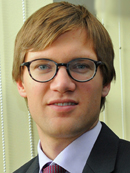 Staff lawyer from August 2018, to completion of his assignment on October 31, 2019.
Simon Gooding-Townsend, B. Arts Sc., M.P.P., J.D., Barrister & Solicitor was called to the Bar of Ontario in 2018. A graduate of the law and public policy program at the University of Toronto, he brings his detail-oriented approach to the law when working on pressing and important policy issues. In the past, he has assisted Ontario with constitutional law matters, contributed to Ontario's personal income tax policy, and assisted low-income clients at the Hamilton Community Legal Clinic.
Mr. Gooding-Townsend's diverse work experience reflects his love of the interdisciplinary. He is a graduate of McMaster University's interdisciplinary Arts & Science program. Throughout university, his extracurriculars ranged from editing the Indigenous Law Journal to serving his student government as Speaker and a long-time Election Committee member. Even when articling, Mr. Gooding-Townsend brought his diverse interests to the table in clerking at Ontario's Superior Court of Justice and Divisional Court. In this capacity, he supported judges in researching, editing, and discussing their cases and decisions.
email sgoodingtownsend@collingwoodinquiry.ca
---
---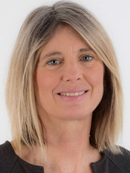 Appointed to the Superior Court of Justice of Ontario on March 8, 2019
Janet Leiper, LL.B., LL.M., C.S., Barrister & Solicitor was called to the Bar of Ontario in 1987. Her practice spans criminal law, regulatory and professional ethics matters, administrative law and policy as well as years of adjudication on discipline, mental health and regulatory tribunals. She is a certified specialist in criminal law, having defended and prosecuted Criminal Code offences in Ontario courts since 1987.
Ms. Leiper is one of the first Integrity Commissioners in Canada, having served as the City of Toronto Integrity Commissioner from 2009 to 2014, and as the Integrity Commissioner for the City of Kingston and the Town of Blue Mountains. In May of 2018, she was appointed as the Interim Integrity Commissioner for the City of Niagara Falls.
In 2015, Ms. Leiper was appointed to the Ontario Securities Commission where she adjudicates hearings and settlements concerning public market regulation in the public interest. Her role at the Commission includes policy decision-making and oversight of the operations through her membership on the Board. She is Chair of the Governance and Nominating Committee at the Commission.
Ms. Leiper is an elected bencher (director) of the Law Society of Ontario and in that role, she has provided oversight, discipline adjudication and stewardship to the legal and paralegal professions since 2011. She is the Chair of the Governance Task Force and of the Certified Specialist Board for the Law Society of Ontario.
From 2004-2007, she served as the full time Chair of the Board of Legal Aid Ontario. She is a former Director of the Osgoode Public Interest Requirement at Osgoode Hall Law School and while there, she taught Ethics in a Global Community and Criminal Procedure.
Ms. Leiper has been honoured for her service to the profession. In 2009, she received the Laura Legge Award from the Law Society of Upper Canada.
---
---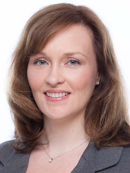 Counsel from June 5, 2018, to completion of her assignment on November 30, 2018.
Kirsten A. Thoreson, LL.B., B. Admin., Barrister & Solicitor, was called to the Bar of Alberta in 2006 and the Bar of Ontario in 2007. She is Senior Legal Counsel at the Ontario Securities Commission, in the Office of the Secretary. Ms. Thoreson serves as adjudicative counsel to Commission panels during tribunal hearings, where her work includes the identification of evidentiary and procedural issues. She is a member of the Commission's governance team and is counsel to the Human Resources & Compensation Committee of the Board of Directors. Previously, she served as a Senior Litigation Associate at Bennett Jones LLP, where she was a member of the fraud law and class action practice groups. She was the lead associate on a broad range of fraud litigation matters including civil fraud and conspiracy, bid-rigging, cheque fraud, fidelity claims and kickback schemes. She was also a lead associate in the class action practice group, representing defendants in national class certification motions, summary judgment motions and settlement approvals.
Ms. Thoreson is a graduate of the Faculty of Law at the University of Western Ontario. She also holds a Bachelor of Administration degree from the University of Ottawa and an International Baccalaureate from the Red Cross Nordic United World College.
---